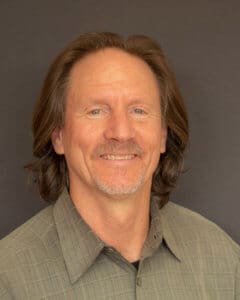 John's love of drawing and his fascination with fabrication and construction led him on his path toward architecture. Solving the mysteries of "How'd they do that?" has always intrigued him and continues to feed his enjoyment of creative problem solving to this day.
John attended college at the University of Idaho where he received his Bachelor of Architecture degree in 1984. He also studied architecture while traveling in Europe. He got his first job at a firm in Santa Monica, where he completed his internship toward licensure. John moved to the Rogue Valley after attending his college roommatés wedding in Ashland. He fell in love with the area, the people and all that Southern Oregon has to offer.
John opened his own practice, John David Duffié Architect in 1992, soon after the birth of his daughter Emily Rose. He has contributed to projects and impacted our community for years, until merging with Straus & Seibert Architects and soon after creating CDArchitects with partner, Gary Corn.
Recreationally John enjoys surfing, snowboarding and dirt track racing.
John is active in the local Bear Creek Valley Rotary Club, is past president of the Heart of Medford Downtown Association and strives to give back to our community through these involvements.